In July 2019 a new right-wing government came to power in Greece, pledging to get the country back to "normality". By this it means a 1950s-style vision of a uniform, white, christian society where everyone is happy working for low wages, shopping on credit, and blaming their troubles on scummy foreigners.
So, in external affairs, the government rattles the national sabre ineffectively against Turkey or North Macedonia. Internally, it declares war on anyone who doesn't fit the "normality" script: above all migrants, students challenging the neoliberal university, and the country's troublesome anarchist movement.
On the ground in Athens, this translates to numerous squat evictions, as well as occupying and gentrifying the "lawless zone" of Exarchia: the haunt of anarchists, migrants and students alike. Plus, in general, boosting police numbers and powers, toughening sentencing laws, and rounding up migrants evicted from the squats to be sent to camps across the country.
The previous left-wing Syriza government also sought to control Exarchia and its anarchist and anti-social elements. But it played a more sophisticated hand, often avoiding inflaming tensions which could alienate some of its supporters. New Democracy takes the opposite tack, playing up its attacks to get applause from its right-wing audience.
New Democracy in the UK
The characters behind New Democracy seem a fair representation of the Greek business elites, with their family dynasties and cronyism. Another feature of the Greek business class is its strong international connections. In particular, many business and political leaders have been educated in the UK, while London is one of the main financial centres where the Greek shipping barons and friends launder and spend their money.
So it's not surprising that New Democracy has an important presence in the UK. The party's UK branch is run by an executive committee made up of Greek businessmen settled in London.
As a start towards investigating the New Democracy UK connection, here is a closer look at its executive committee, with screenshots from the party's own website and elsewhere.
New Democracy UK Executive Committee

1. Vassilis Zafiris
President of the Executive Committee and Manager of Zafiris Consulting, a business consultancy firm based in Hampstead.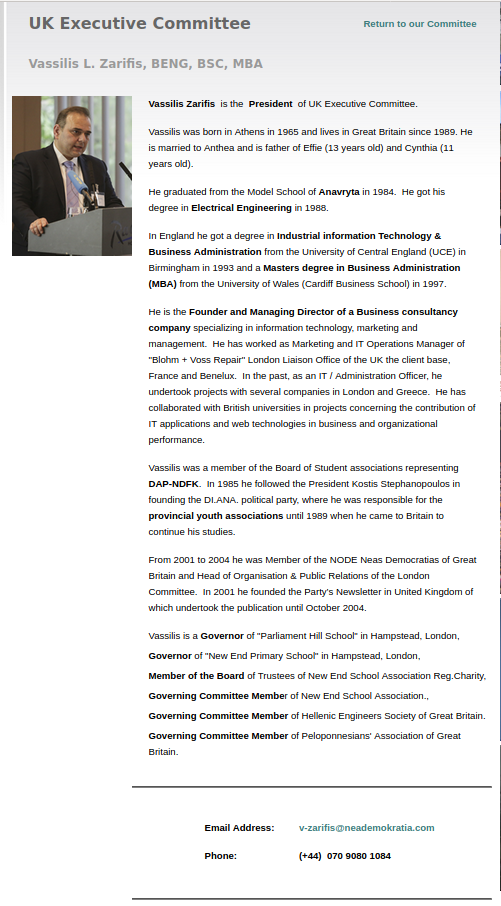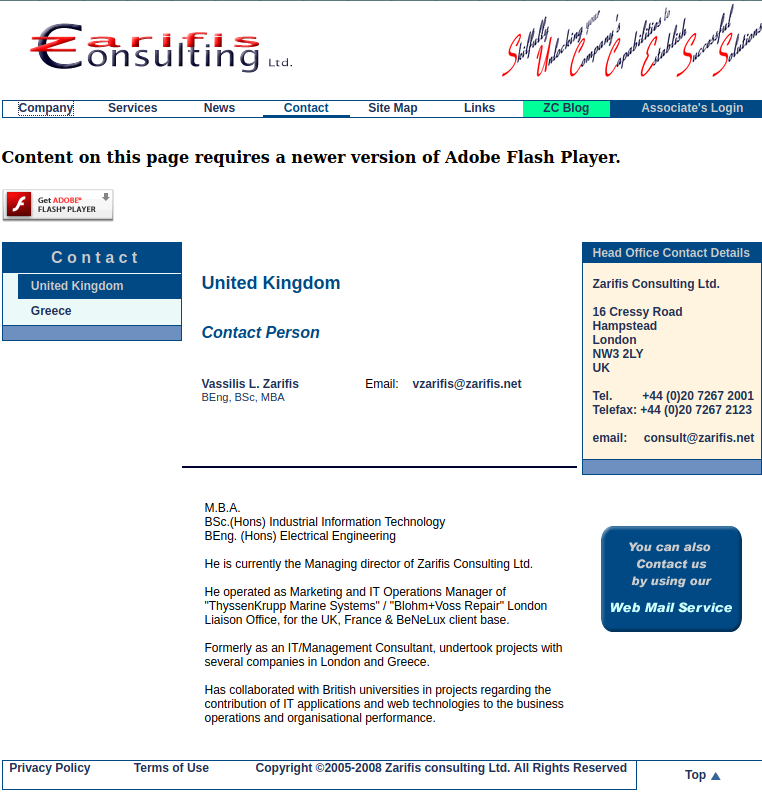 2. Christos Kassapis
Kassapis is the Committee's PR secretary. He owns Camden Laptop Repair, whose address is 16B Pratt Street, Camden Town, London NW1 OAB. Kassapis is also active in party politics in the UK and was a Conservative Party candidate in the 2014 council elections for Camden Town and Primrose Hill. The party lost to Labour in the election.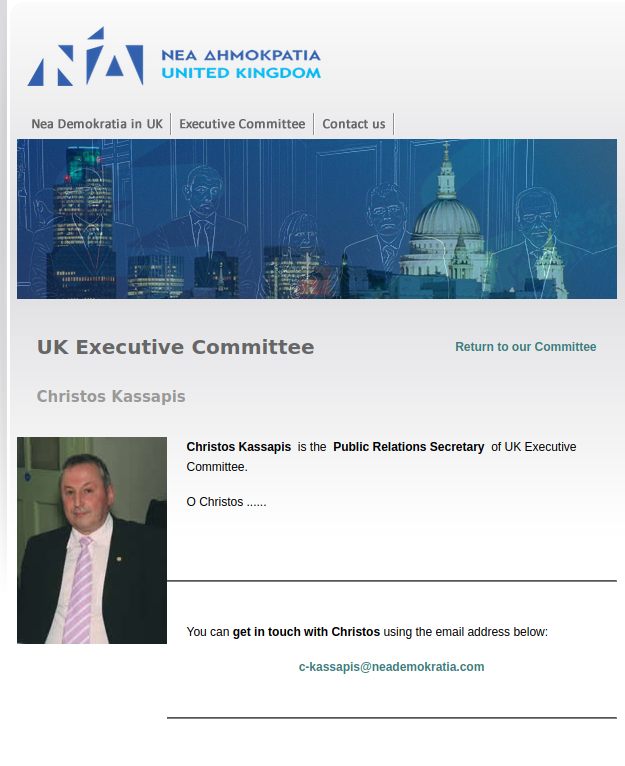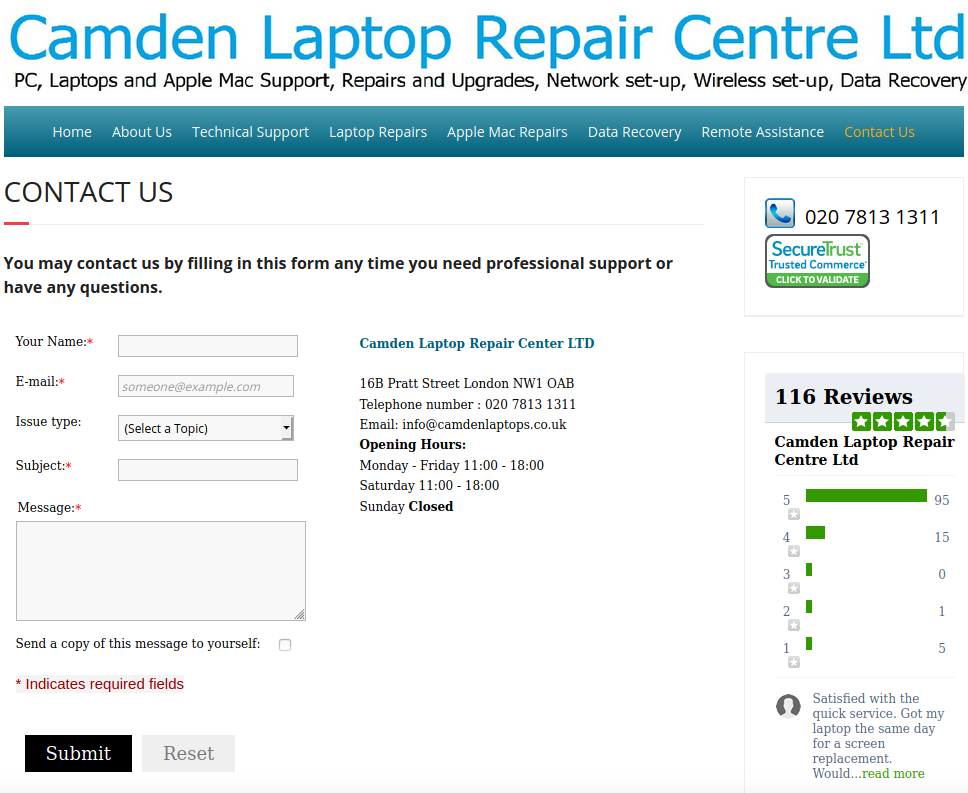 3. George Palikaras
Previously the President of the Committee, now its 'International Relations Secretary'. Palikaras is CEO of the multinational, Metamaterial Technologies Inc., described as a 'smart materials and photonics company'. Metamaterials are materials manipulated to interact differently with electromagnetic waves. Technologies developed by Palikaras' company have military and police applications.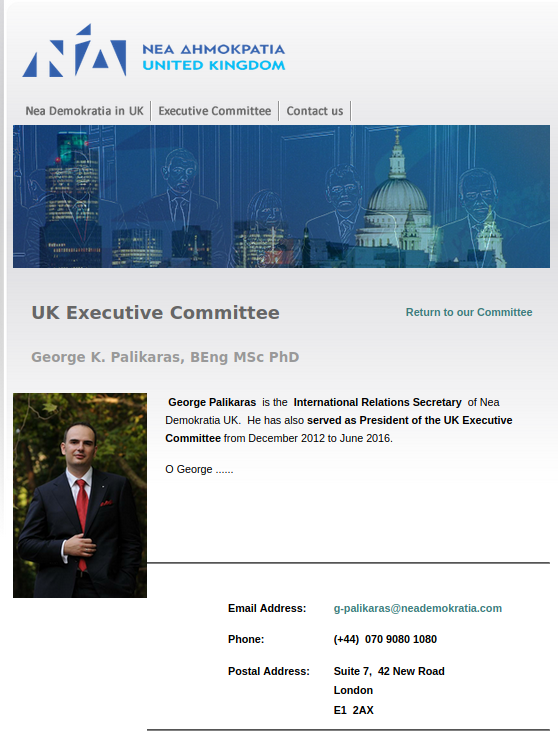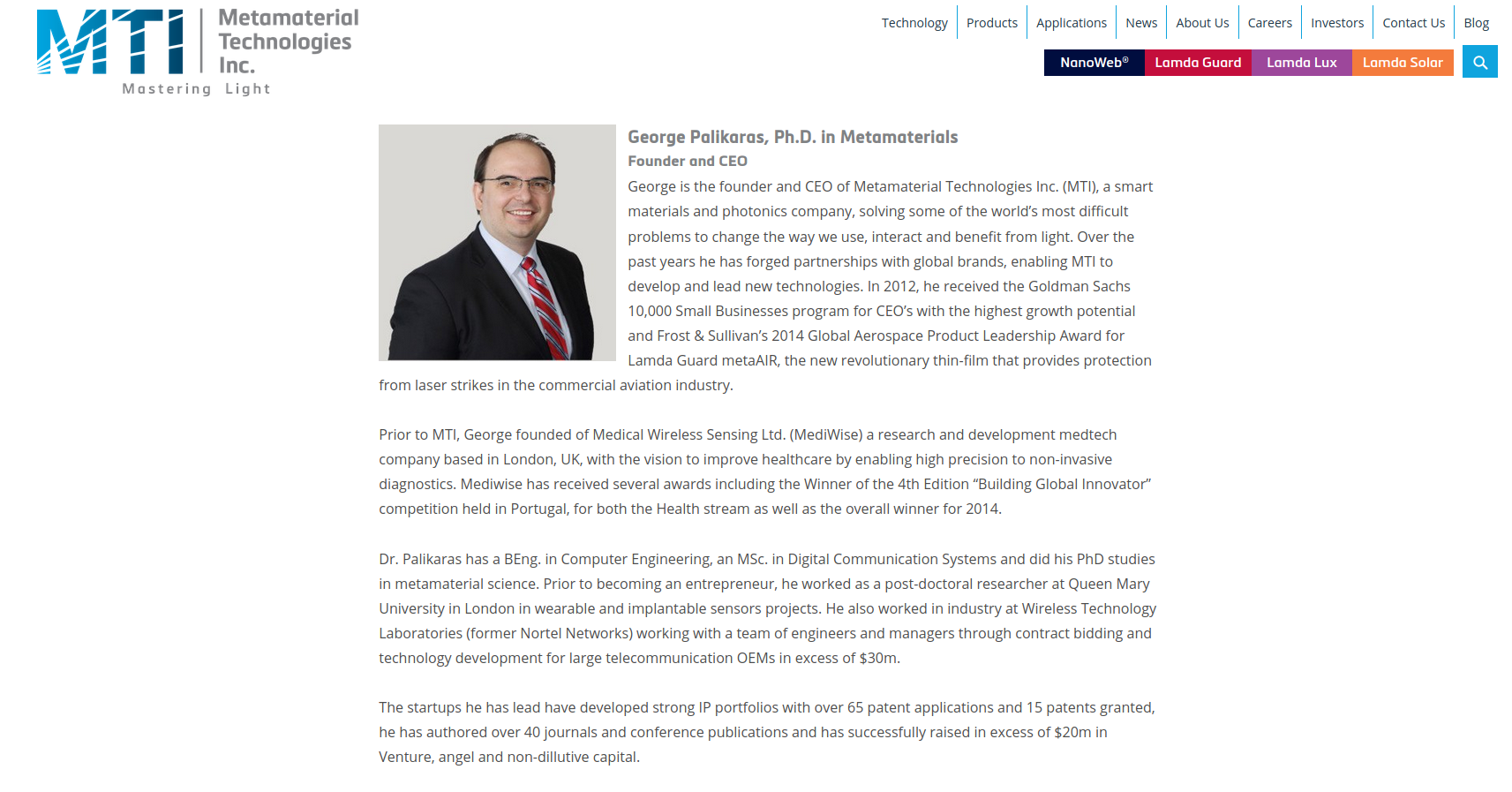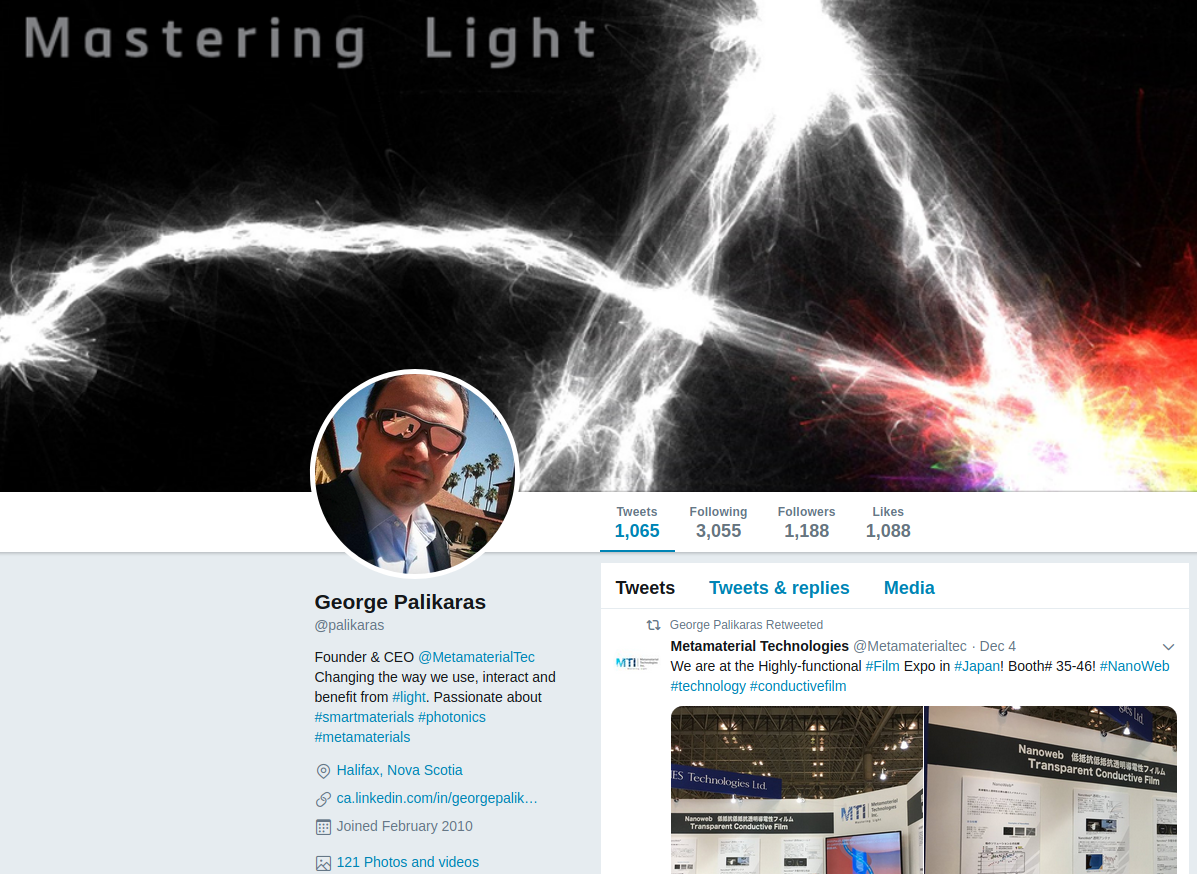 4. Nikolaos Lilis
Lilis is currently the 'scientific relations and cooperation secretary' and the 'head of the financial audit'. He also runs a dental surgery in Ealing and dabbles with Botox. Unusually, this cosmetic procedure is also available at his dental surgery.
(On a side note, every single batch of Botox is experimented on animals first. An estimated 400,000 mice are tortured to death in Europe each year so that rich people can have poison injected into their frown lines.)
The surgery's address is 33 St Mary's Rd, London Borough of Ealing, London, W5 5RG.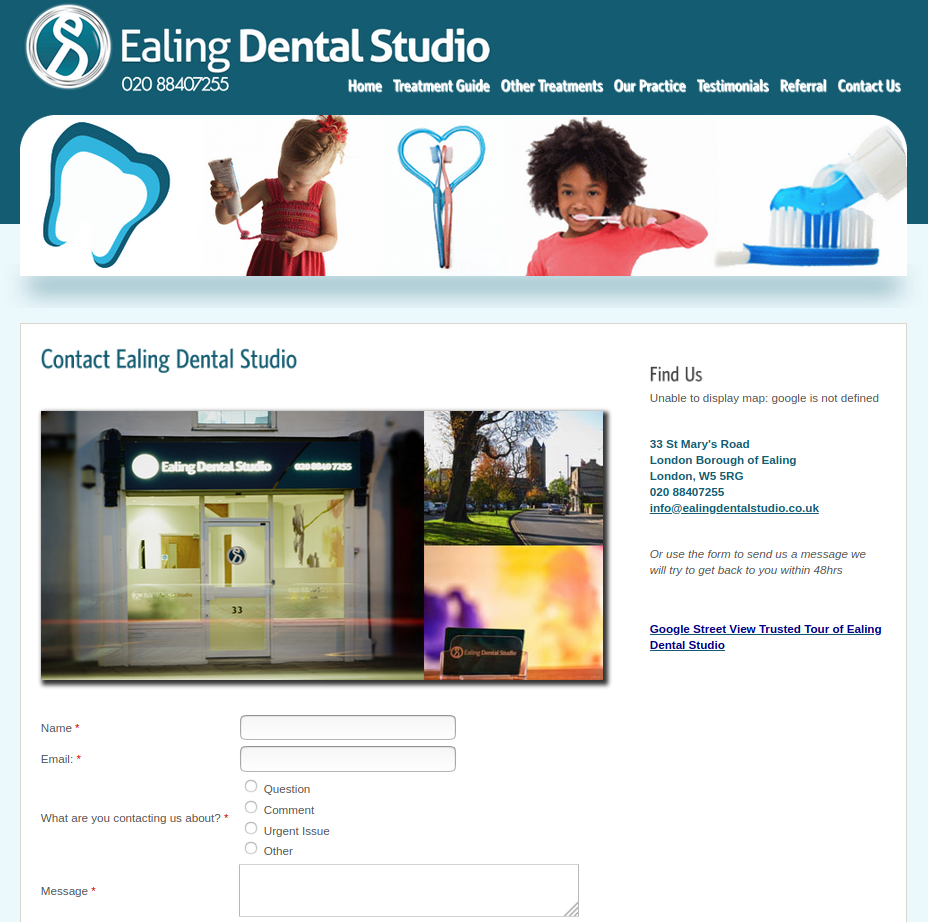 5. Kostas Papakostas
Papakostas is the Organisational & Coordination Secretary.

6. Fotios Stikas
Stikas is the 'participation secretary'. He is also active in the Peloponnesian Association of Great Britain, whose address in his name is listed in the screenshot below.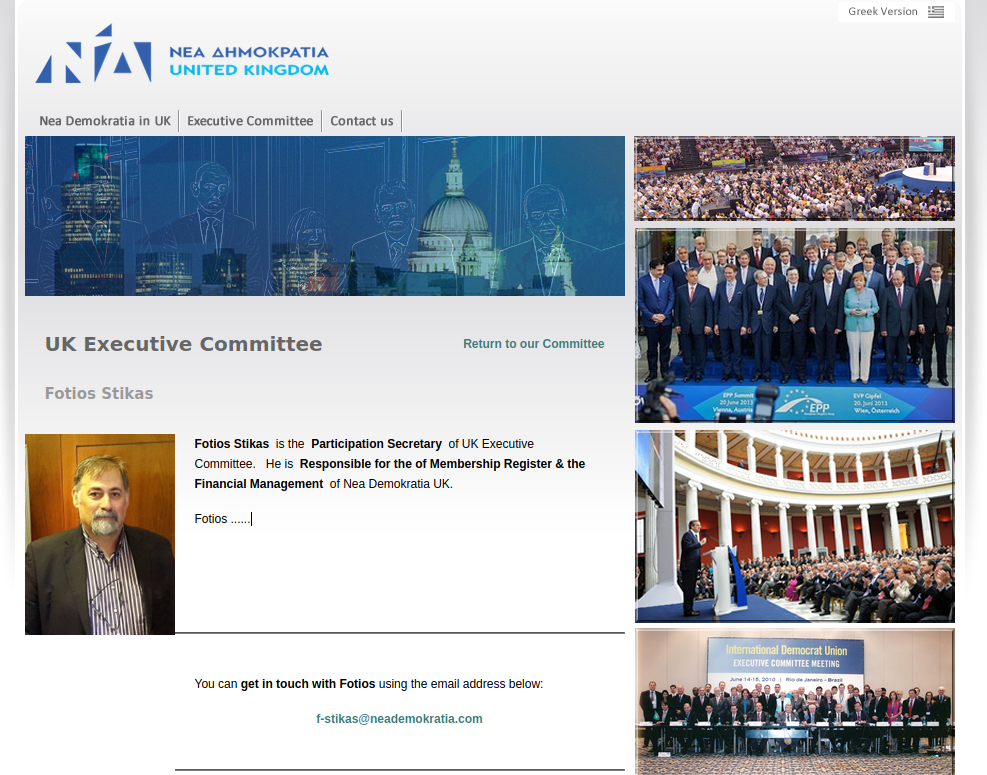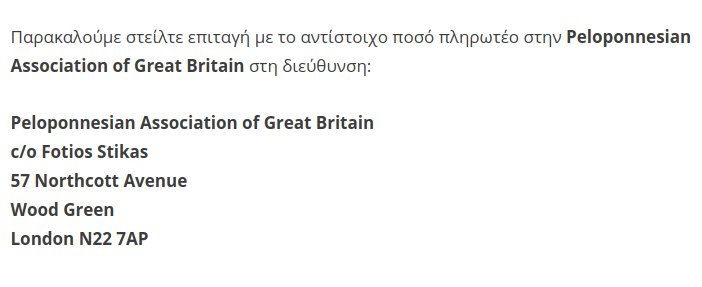 7. Theodosis Zaimis, aka, 'Ted' Zaimis
Vice president of the committee and leading its 'marine division', Ted Zaimis is a maritime man who also acts as Treasurer for the Nautical Institute.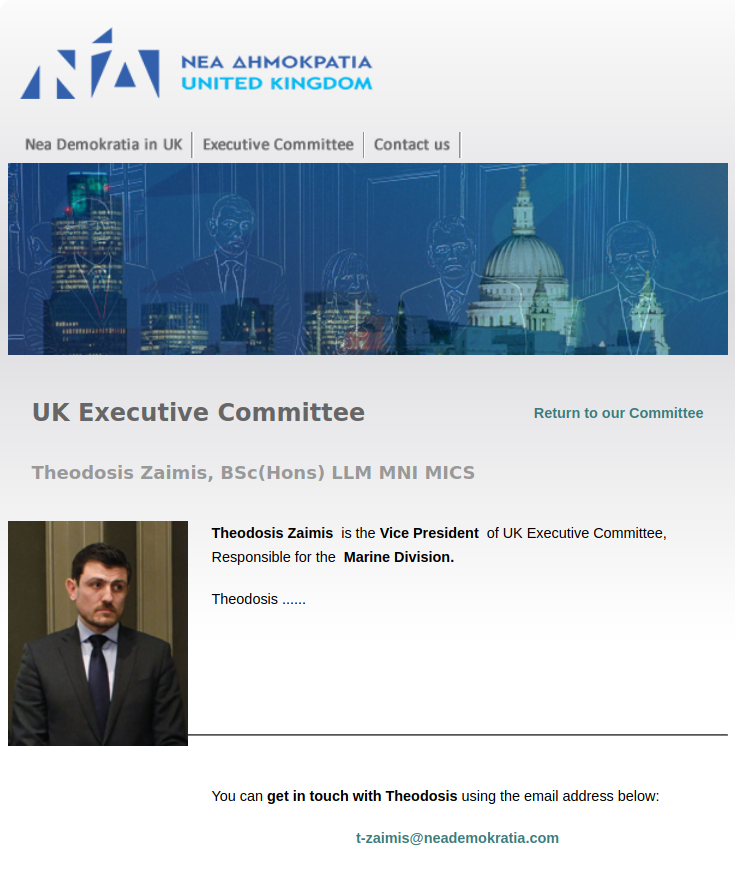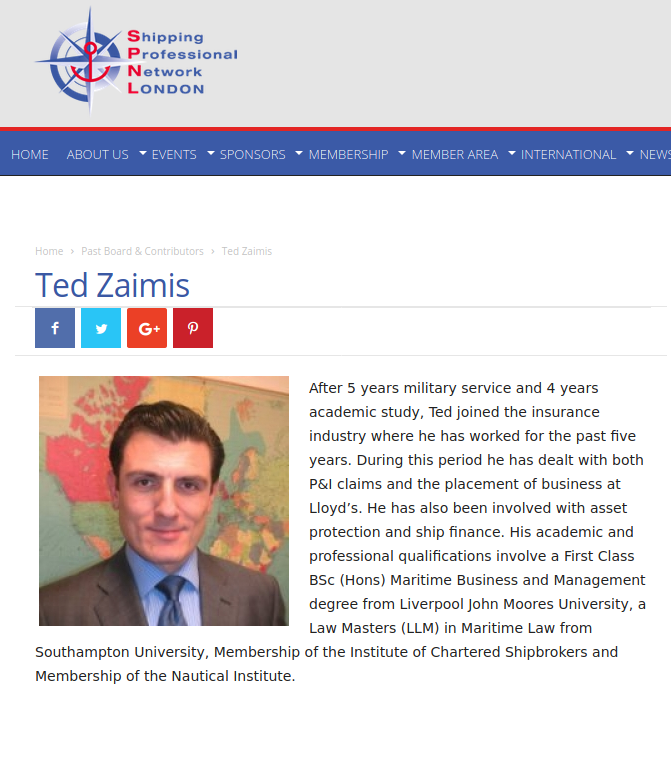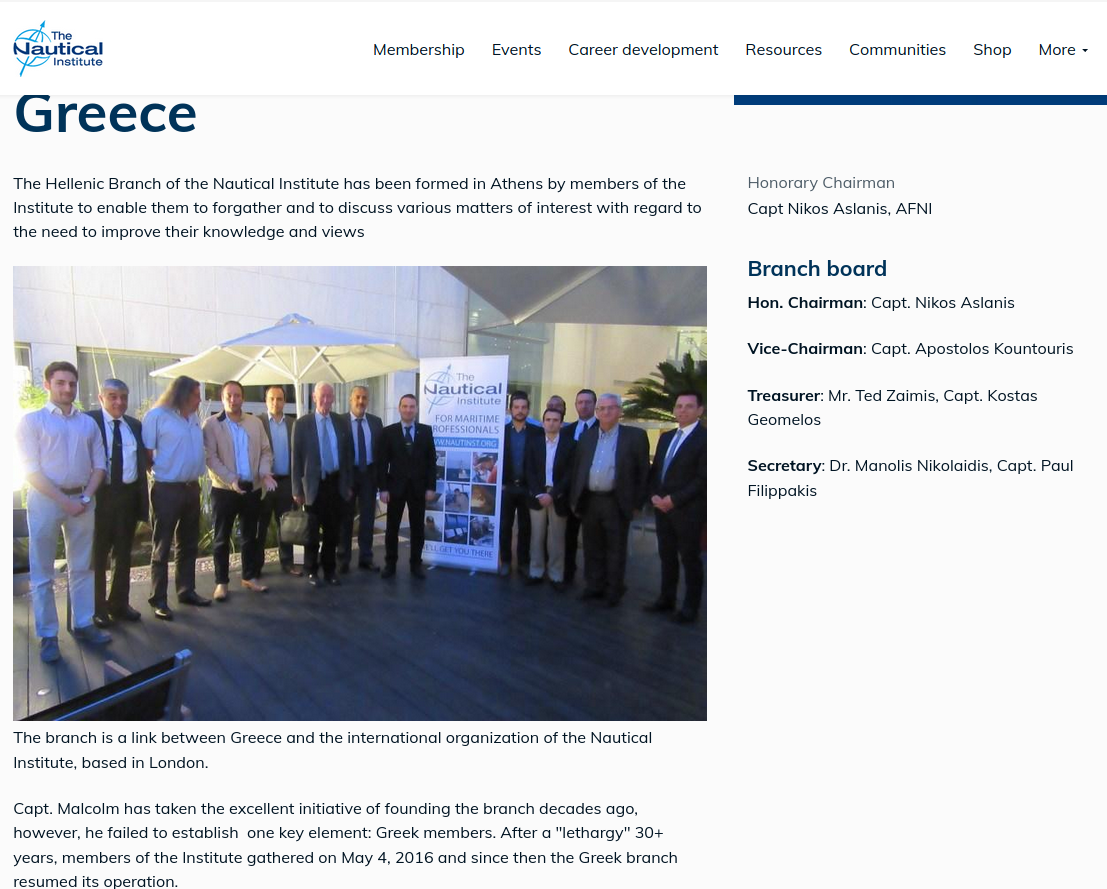 8. Sokratis Ochtaras
Sokratis Ochtaras is the Business Sector Secretary and events organiser.
Two businesses are registered to his name in Camden, one of which is reportedly still active. The nature of the business is unclear.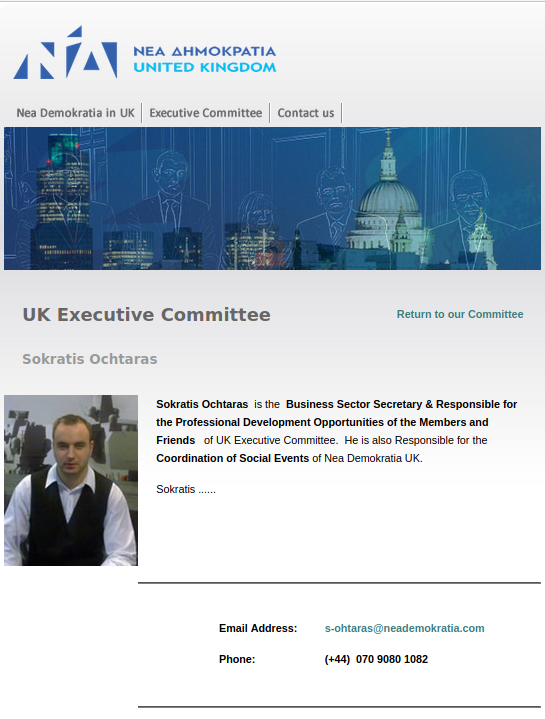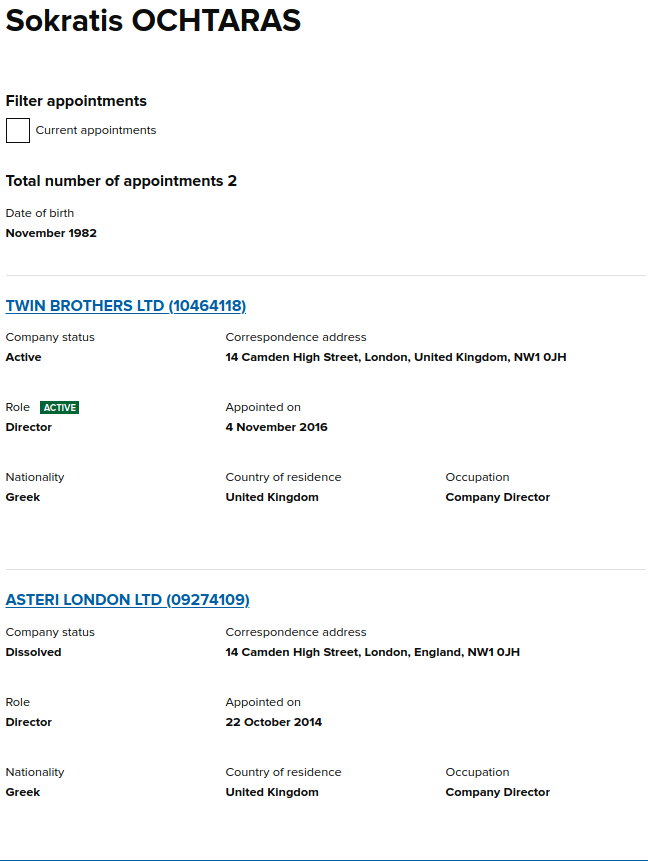 9. Michael Arapis
Arapis is the ND UK chief editor and its Welsh head. He is also a PR officer for the UK Peloponesian Society.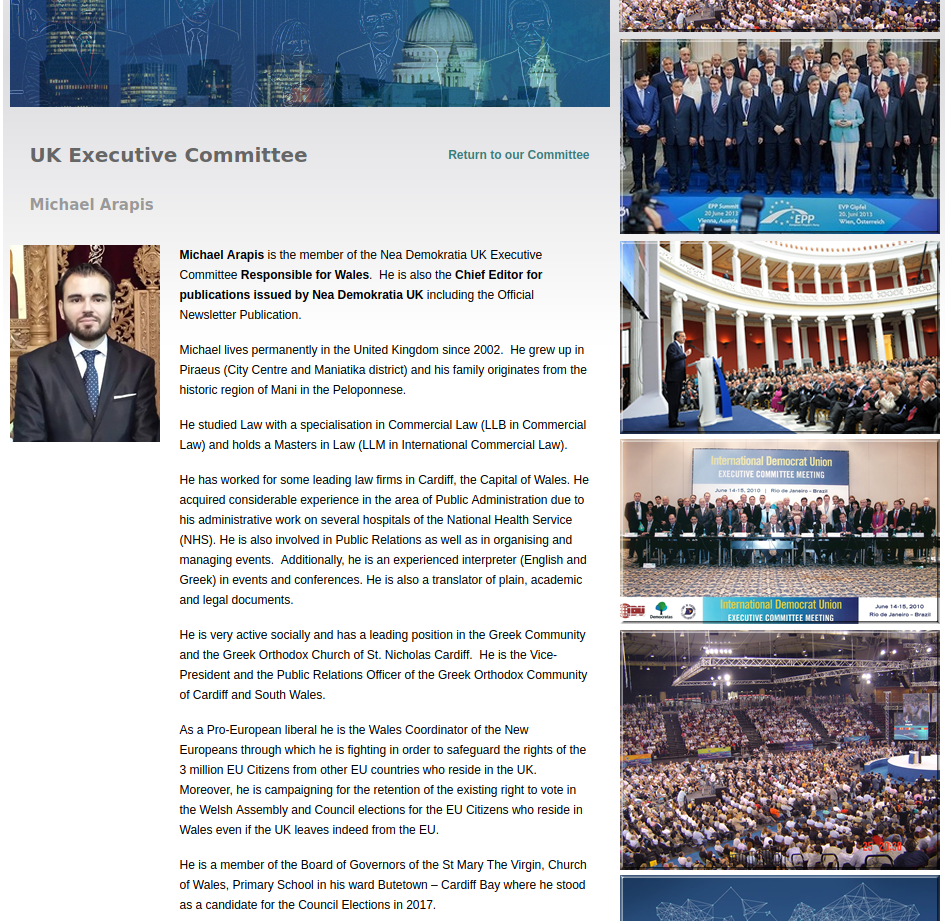 10. Panayiotis Kalambokis
Kalambokis is the committee's PR secretary. He is also registered as a director of two UK companies, Malthi Consultants and Ploutos Finance. Neither have websites nor is there much trace of them on the internet.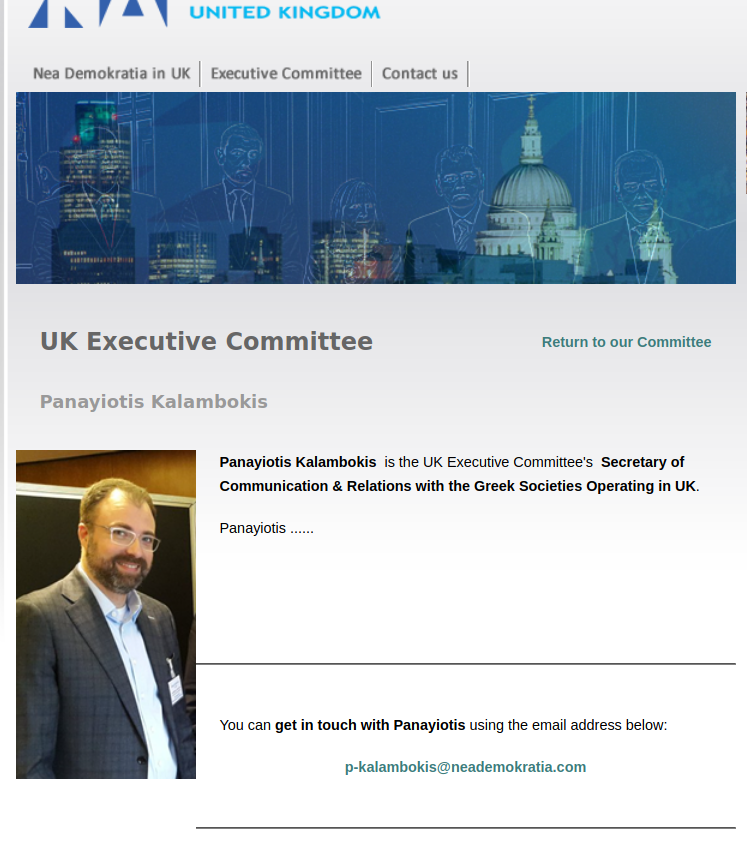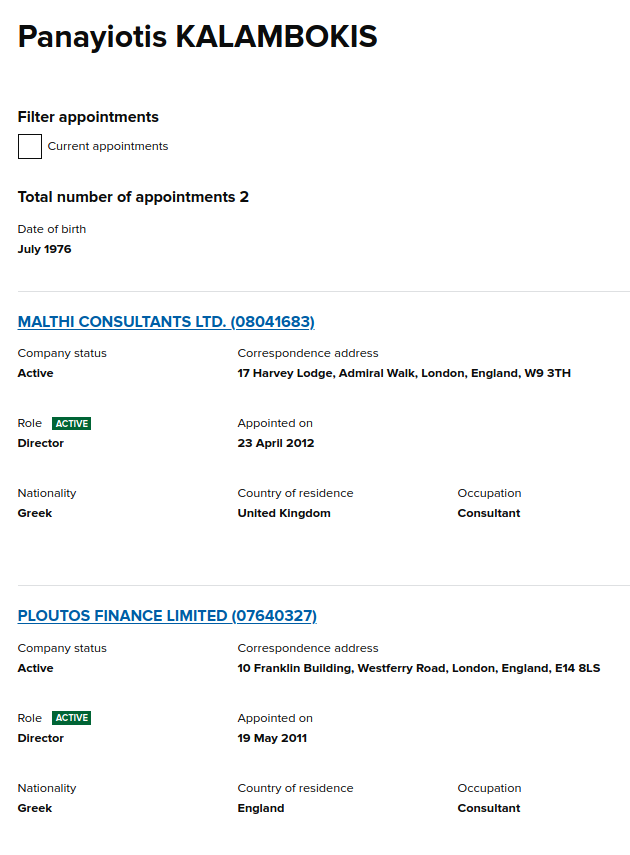 11. Vasilis Repakis
Vasilis Repakis is the committee's general secretary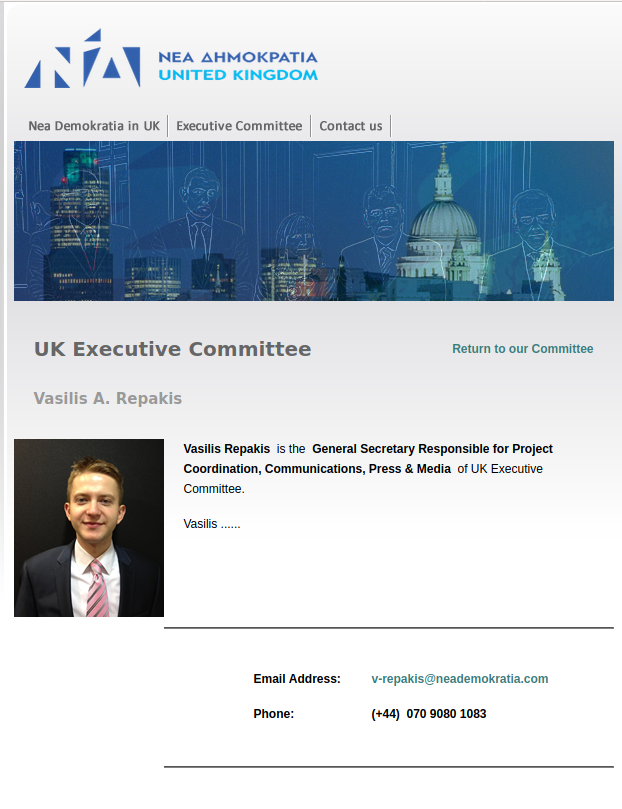 12. Marianna Lykourentzou
Marianna Lykourentzou is the events coordinator and women's affairs secretary.