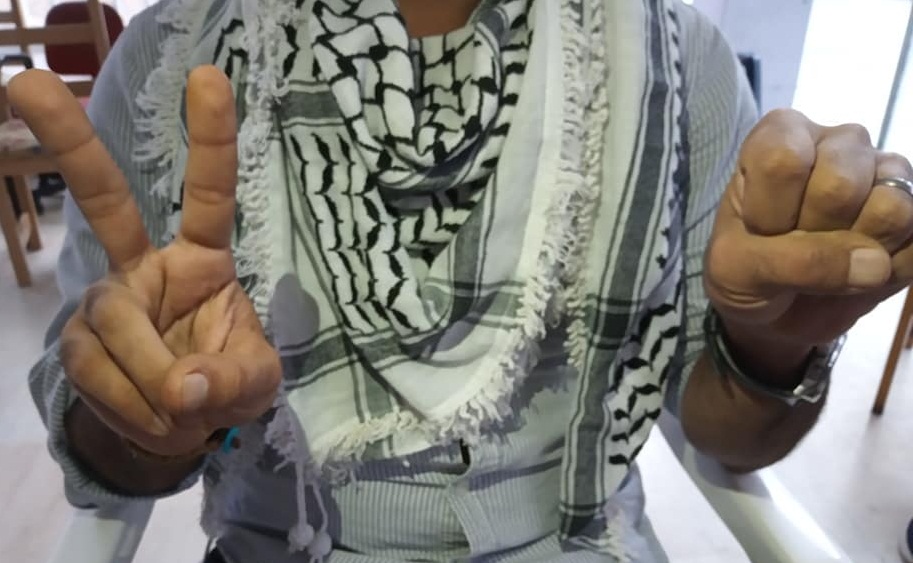 This is one in a series of interviews with people involved in the Notara 26 squat in Exarcheia, Athens. The struggle for the free spaces here is made up of people with very different backgrounds, life stories and ideas. We aim to record people's own words without imposing our views – though of course we can't escape our own perspectives, or the limits of translation.
2. Kargar-e-sorgh ("Red Worker")
I was a political and worker activist in Iran. In the city of Ahwaz, in the south of Iran, I was working in a big factory, a metal works, and I became active in the workers' movement there.
You were a trade unionist?
No, not a trade union. The only trade unions in Iran are those controlled by the regime. We were organising strikes and demonstrations spontaneously, a grassroots movement. Our factory and others close to it in Ahwaz became very active. The movement was growing for about four years, and from about two years ago we had a lot of actions and demonstrations. Last October, 2018, we had 3000 workers on strike. The strike lasted for forty days, it was one of the biggest and the longest that have happened since the revolution. I was part of the coordinating group for that strike.
I was arrested on 23 October. They told me: "we'll let you go, on condition you go back to the workers and tell them to stop the strike and agree to the bosses' conditions." I agreed and they released me. But then I went to the demonstration in the street and I said the opposite of what they'd told me.
"They can only kill the fear in our hearts"
I said this: "our hearts are ready for their bullets. But the cops' bullets can't kill us, they can only kill the fear in our hearts."
We occupied the factory. Two days into the occupation, the police attacked people's homes in the night and arrested 41 people. So we decided to occupy again, and this time all stay inside, not going home. The police completely surrounded us, but we held the occupation for five more days.
After those five days, some colleagues brought a van inside as if they were moving materials, they hid me in the van under the stuff and took me out. I managed to get out of Ahwaz and go into hiding. They arrested more workers from our factory, and they put a documentary on national TV accusing me of being an Arab separatist. It doesn't matter if you're Iranian, Kurdish, Arab, whatever, they accuse you of lies like that.
So how did you get out of Iran?
I managed to get out to Turkey, over the mountains. In Turkey again I was arrested, for having false papers, and put in prison for 50 days. I spent four months in Turkey altogether, almost half of it in prison. In Turkey I experienced a lot of racism, a lot of racist abuse because I didn't speak Turkish.
Getting to Greece, that's another story again. I tried three times to cross, over the land border at Evros. The first two times I was caught by Greek soldiers. They beat us up, they made us take off our clothes and threw them in the river. Then they pushed us back to Turkey.
But the thing I was most scared of? Not the Greek soldiers, but if I got caught by the Turkish soldiers again going back into their country. I was worried that if I was arrested in Turkey again then they'd deport me to Iran.
In Exarcheia
Finally, I made it. When I got to Greece, I was really scared about fascist attacks. After my experiences in Turkey and on the border, I was thinking the world is full of fascists and racists, it's going to be just as bad in Greece. That thought was always on my mind.
Then on the second day in Athens, I came here to Exarcheia. And I thought – "wow!" Really, wow!
I didn't know two words of the language, but no one cared. The first place I went to was K-Vox (occupied cafe and social centre). I didn't know anyone, I just walked in to get a coffee. I could barely communicate, but people were smiling at me! I got such a good feeling. I felt – here I'm somewhere where your skin colour, your language, how you dress, doesn't matter. In Exarcheia, I found, no one cares about those things.
Later I met a friend, a comrade I knew from Iran. He brought me here to Notara. I don't live in Notara, I come here in solidarity. When I came here I felt in a place where people are part of a movement, a common struggle. I feel close to people here, I feel that we share ideas.
What does Notara mean for you?
This place has become very important for me. I say to people here: you can count on me for anything, even if you need someone to clean the toilets I'm ready to do it.
Then the evictions started in August and the police started making threats against Notara. When I saw people rallying around, coming out for demos, I decided to participate more. Maybe I can't do much, but I feel it's important to come here and show support for my friends. To help them keep up their spirits. If the police come now I could be in danger, but I don't care. I prefer to try not to think about my personal situation, I feel happy to be close to my friends here.
Notara has been a big experience in my life. To see people living and working together like this, making a place in common, without many big problems. To see people from other countries coming to show their solidarity. To see people acting as equals, all on the same level, no matter where you come from.
The language of struggle
I am very happy if this movement accepts me and knows me as a comrade. This movement in the squats and streets of Exarchia has taught me that our fight, our struggle, doesn't have any geographic limits, it doesn't have any one place. All of us come from different places, we speak many languages. But we all share one language – the language of struggle.